Info Bulletin CCDNTS №4(1).
INFO BULLETIN No. 4(1)
15/03/2023
NEW TECHNOLOGICAL STAGE
OVERVIEW OF AGROBIOTECHNOLOGIES
Agro-bio technologies can be divided into three groups:
А. Which are intended for use in extreme conditions.
B. Which are applicable in traditional farming and animal husbandry systems.
C. Universal, applicable both in the first and in the second case.
This Bulletin is devoted to the description of Group A technologies.
INTRODUCTION. Analysis of the dynamics of natural disasters suggests that a difficult-to-predict lithospheric-climatic transformation has begun on Earth, which will soon (we are talking about 2025-2035) reach the peak of its power.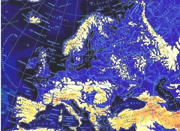 Scientists all over the world are talking about this. One of the forecasts of the flooding of Europe is that today tens of millions of people are forced to leave their homes due to natural disasters, and this figure is increasing every year. The changes are obvious and are becoming more threatening. Difficult times are coming for humanity. Entire continents will face catastrophic consequences of natural disasters, political crises, wars and socio-economic upheavals. The amount of land suitable for traditional agriculture and access to clean fresh water will be sharply reduced. Urban and rural settlements that have survived, but are not prepared for such changes, especially large megacities, will turn into death traps for the residents who remain in them. In this case, there will be hundreds of millions of refugees and victims of force majeure.
Is there a way out of this situation? Is it even possible to preserve human civilization? Is it possible to create a safe living environment, preserve the Human gene pool, ensure a full life and harmonious development of future generations?
The answer is unequivocal: YES, with the help of new stage technologies from Russia, this is possible!
A number of systemic practical solutions are described below, which make it possible to provide any number of the population with a natural balanced diet in extreme conditions of destabilization of the planetary environment.
AUTONOMOUS BIOMODULES "FLORA" (ABF) is a technology of accelerated crop production with complete isolation from the external environment.
The main idea of the ABF is the transition from the use of arable farming territories (which will soon be in acute shortage) and from energy–intensive technologies of closed plant cultivation in low-reliability translucent structures of greenhouses to a new type of crop production:
evenly distributed in all areas of human activity,

isolated physically and at the field level from the external environment,

based on improved and adapted to the requirements of the current situation natural algorithms for controlling living matter, similar to those that functioned in the heyday of the Earth's biosphere.
HISTORICAL BACKGROUND. In the heyday of the terrestrial biosphere, the composition and pressure of the atmosphere, the properties of water, spectral composition, mode and intensity of illumination, types and intensity of fields, algorithms for controlling living matter, etc., collectively caused a huge, tens and hundreds of times greater than modern, species diversity and significantly larger sizes of representatives of terrestrial and aquatic life – plant and animal. The whole Earth then had an even climate, multi-tiered forests grew with the height of the trees of the upper tier reaching up to several kilometers. Fruit and berry trees and shrubs of the middle and lower tiers with a fruit mass of several tens to hundreds of kilograms, vegetable and creeping crops of the lower tier with a mass of fruit bodies up to 1000 kg had a corresponding proportional value and more, huge compared to modern grasses and cereals. The animal world was also distinguished by an incredible variety of species and sizes (not to be confused with the so-called "era" of dinosaurs"). Almost all terrestrial plants, both angiosperms and gymnosperms, also grew in the aquatic environment. Small remnants of the former greatness of flora in a greatly reduced form have miraculously survived to this day and can be found in a number of places on the planet. The highly developed human civilization of that time, whose number, according to various estimates, exceeded the modern one by 10-100 times and which was not the only form of intelligent life on the planet, perfectly mastered the technologies of biosphere management (its mass was 20 thousand times more modern) and it was provided with the most diverse food throughout its existence (a number of researchers claim that it was many thousands and even millions of years) – without arable farming, without pastures, irrigation, pesticides, hormones, synthesized fertilizers and other attributes of modern agriculture. Аuthor's artistic reconstruction of some fragments of the Earth's biosphere of the past is presented in the "Avatar" franchise (directed by J. Cameron). Recreating the natural environment of the Earth is a difficult but solvable task for modern Humanity. The culture and technologies of our ancestors will be recreated, and this process has already begun in Russia.
This picture is clickable
In recent history, the issue of creating closed ecosystems was raised in science after World War II. The first practical results in this area appeared in 1964-1966 in the USSR – in the framework of research on ensuring human life during long space flights. Today, in addition to Russia, research in this direction continues in different countries, in particular in the USA and China. However, it was only in the USSR and then in Russia that the most impressive and stable results were obtained, which have now been brought to ultra-efficient technologies of practical application, far, by an unattainable margin, ahead of the most promising developments of other countries.
The ABF creates its own stable biosphere – a programmatically (using special algorithms) controlled environment for plants, which significantly exceeds in its life-giving properties the natural one that currently exists on Earth and is in severe exhaustion after a long period of functioning in emergency mode due to barbaric use.
In ABF, you can grow the entire range of commercial crop production with a yield of at least 3-4 times higher than the best options for modern greenhouse crop production:
greens,

vegetables,

berries,

fruits,

absolutely pure and unmodified seed material (super elite Category 1),

high-protein animal feed
ABFs are characterized by:
1. Complete independence from the sun, which makes them indispensable in areas:
a) with a short or completely absent solar cycle – in the Far North, in the Arctic, Antarctica, in underground and underwater complexes, etc.;
b) in a hot anhydrous climate with an overabundance of solar radiation.
The ABF does not use any of the currently known electric lighting systems in the world, including incandescent lamps, halogen lamps, LEDs and gas-discharge light sources of all types and types.
The ABF uses an energy-efficient opaque insulated thermal circuit and an innovative intelligent phytodynamic lighting system, the unique sources of which are able to change the radiation parameters (spectrum, intensity of frequency intervals, spatial distribution, etc.) individually for each plant species, in dynamics – for all stages of their growth.
2. Versatility: different crops can be grown simultaneously in the same ABF.
3. The absence of diseases, pests and parasitic forms, a significant reduction in the terms of vegetation of plants, natural fortification and saturation of fruits with minerals.
4. High organoleptic characteristics of products (taste, smell, appearance, etc.). The sizes of fruit bodies are controlled programmatically in a wide range, without the use of genetic modification, chemicals, hormones, etc. – from miniature to supermax, exceeding the traditionally consumed dozens of times (for example, strawberry berries with impeccable natural taste and smell it can be grown the size of a watermelon and weighing 10 kg or more.
5. Saving thermal (8-10 times) and electrical (4-5 times) energy compared to the best offers available on the power equipment market in 2023-2024.
6. Complete absence of competitors.
7. Low cost of manufactured products.
8. Water and energy autonomy.
9. The possibility of using (due to the absence of the need for solar lighting) special construction solutions to ensure high strength, reliability and stability.
Moscow. CCDNTS. Compiled by K.E. Gabrin. Telegram: t.me/neobasis, e-mail: bionano@list.ru.